SECISDesign is a server for the design of SECIS-elements within the coding sequence of an mRNA with both structure and sequence constraints. This will trigger the insertion of a selenocystein at a preceding STOP codon. Furthermore, a certain similarity to the original protein sequence is kept. It can be used e.g. for recombinant expression of selenoproteins in E. coli.
A SECIS-element (SEC Insertion Sequence) is an mRNA motif with both structural and sequential constraints, that is required for the insertion of selenocysteine into a protein. Selenocysteine (Sec) is the rare 21st amino acid and is incorporated in a particular class of proteins, called selenoproteins. Selenocysteine is encoded by the UGA-codon, which is usually a STOP-codon. It has been shown that, in the case of selenocysteine, termination of translation is inhibited in the presence of a specific mRNA sequence in the 3'-region after the UGA-codon that forms a hairpin-like structure (the SECIS-element).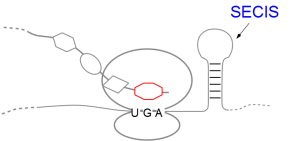 Selenoproteins have gained much interest, since they are of fundamental importance to human health and an essential component of several major metabolic pathways, such as antioxidant defence systems, the thyroid hormone metabolism, and the immune function. For this reason, there is an enormous interest in the catalytic properties of selenoproteins, especially since a selenoprotein has greatly enhanced enzymatic activity compared to its cysteine homologue.
Note: SECISDesign is not maintained anymore.